SOUTH SUICIDE QUEENS! Onyx is back with their fifth album within four years and it's bangin'… Already legends to the game with classic albums like "Bacdafucup", "All We Got Iz Us" or "Shut 'Em Down". Sticky Fingaz and Fredro Starr never fail to impress when it comes to that raw Hip Hop energy. Speaking about real hardcope boom bap , Its hard to find anything like that nowadays.

Quote (Fredro & Sticky): "Our fans can expect that signature, low down, grimy, headbanging street shit. Onyx 4 Life is a culture"
Vinyl Release: April 9th, 2021
Format: LP
Label: X-Ray
Songs: 13

The album was released in March 2021 and is very well put together. With only a few features like Cappadonna & Planet Asia among others. The whole project convinces from start to end. The previous album SnowMads produced by the German production team Snowgoons was fire already and had some good moments on it.
But the new album was produced by DJ Audas 1 and comes off with a more atmospheric, grimy street vibe overall which totally matches their rap display we know them for. Recording sessions took place at The Steakhouse Studio in California.
Album artwork was made by Mashkow, very skilled tattoo artist who is heavily influenced by 80s-90s era of NYC. Check out the video for a closer look on the developement process.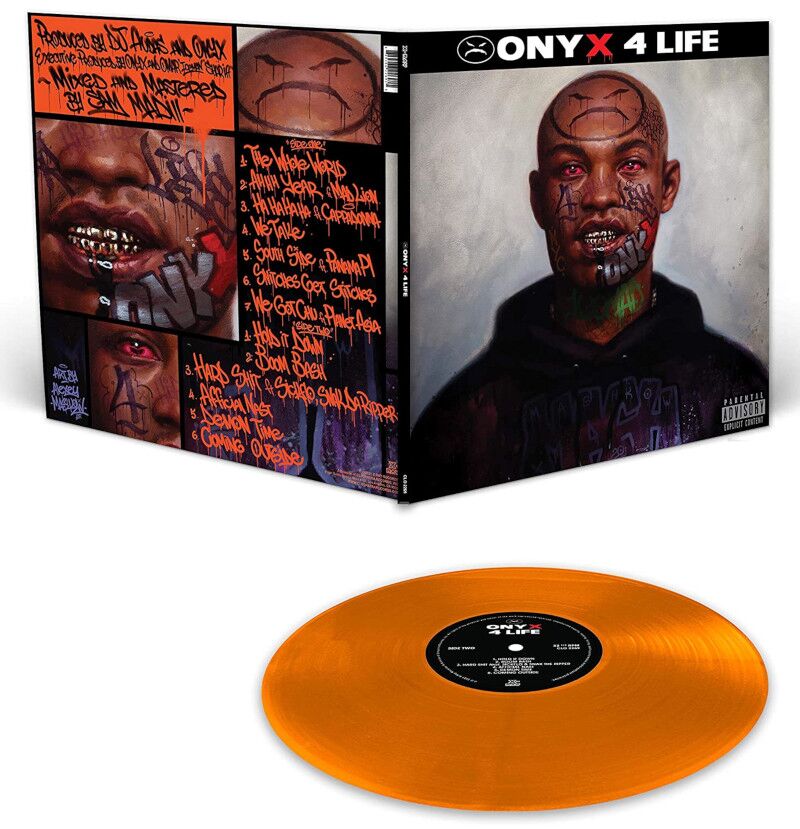 The cover art seems to be the perfect theme for the record. Album starts off with Fredro spittin' over a very melodic – raw beat with a hook that refers to the widely known song "He's Got the Whole World in His Hands".
Third cut on the record is "Club On Fire" and brings some Wu-Tang vibe to the table featuring Cappadonna. Furthermore a sample from ODB was used on the song "Southside" with a hard hitting beat featuring Panama PI.
First single "Coming Outside" was released with a video in February:
A true head banga is the song "Boom Bash" where Sticky murders the track right from the beginning with his characteristical style. Typical Onyx followed by Fredro with powerful statements and dope wordplay through out the whole cut.
And although its hard to make a selection because the whole record is a gem. "Hands Up" sticks out for me. Lyrical depth at it's finest combined with contagious rhythmic elements very well arranged by DJ Auda who did an impressive job on this whole project.
Overall this release will take listeners back to real essence of raw energetic hardcore boom bap Hip Hop. Something which is hard to get these days. Onyx still works and is a real saviour being one of the most consistent groups out there, still to this day.
Salute to Fredro Starr – the General, 5 Star Heat Holder and Sticky Fingaz aka the Scorpion!
Tracklist:
01 The Whole World
02 Ahhh Year
03 Club On Fire (feat. Cappadonna)
04 We Take
05 Southside (feat. Panama PI)
06 Snitches Get Stitches
07 We Got Chu
08 Hold It Down
09 Hard Shit (feat. Sickflo & Snak Da Ripper)
10 Boom Bash
11 Afficial Nast
12 Hands Up
13 Coming Outside
---